Replacing Missing Teeth – Leesburg, VA
Fill in the
Gaps for Good
Even a single missing tooth can cause all sorts of issues. In addition to the obvious aesthetic concerns, spaces in the mouth make it harder to chew and speak normally, plus the teeth may start to shift to close the gap, causing misalignments. These problems can compound as more teeth are lost, greatly affecting someone's daily life. Fortunately, any and all teeth can be beautifully replaced by Dr. McBryde at All Smiles Leesburg. Whether you're missing one tooth or need complete dentures, she can offer a solution tailored for you. Give us a call today to get started replacing missing teeth with our Leesburg, VA dentist.
Why Choose All Smiles Leesburg for Replacing Missing Teeth?
Highly Skilled
& Respected Dentist
Friendly, Low-Pressure Environment
Truly State-of-the-Art Dental Office
Dental Bridges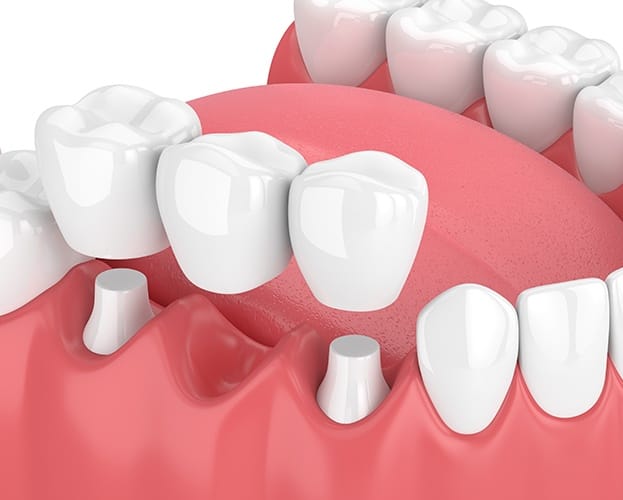 Bridges are multiple-unit crowns that are typically used to replace missing teeth in the mouth. While they were previously made of silver, metal, or gold, they are now also made of a combination of porcelain and metal to ensure that the restoration blends in with the natural teeth. At All Smiles Leesburg, we are proud to offer both zirconia and E-MAX dental bridges to provide the most aesthetically pleasing and functional restoration possible.
Two anchor teeth on either side of the space in the mouth are shaved down and prepared in the same manner as a crown. The bridge is then placed over the two anchor teeth and cemented in place. A "fake" tooth in the center of the bridge - known as the pontic - rests in the previously empty space. The patient's smile is completed, and the restoration is indistinguishable from the patient's natural teeth.
Dentures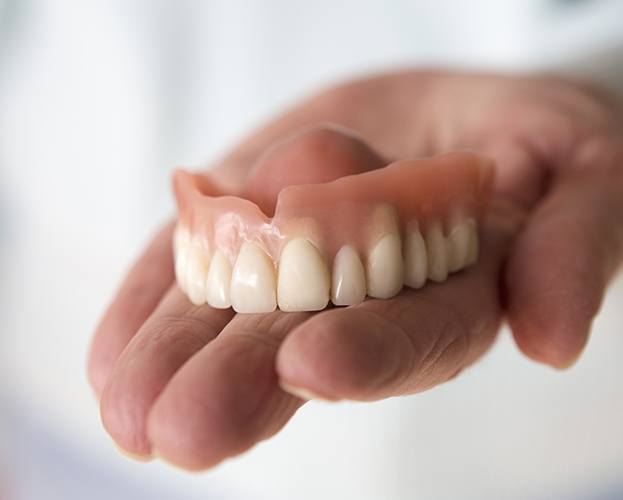 Dentures in one form or another have been around for thousands of years, and today's version is more comfortable, durable, and lifelike than ever. We can use partial dentures to seamlessly fill spaces between remaining teeth or place a full denture directly on the gums to bring back an entire row. From chewing to smiling, our prosthetics look and feel as close to nature as possible.
Dental Implants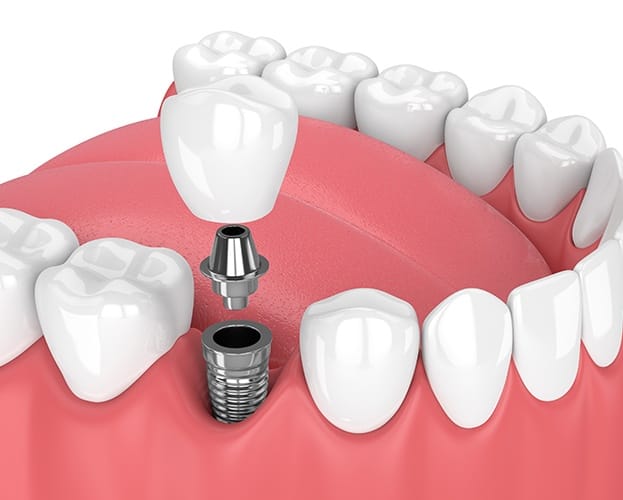 With dental implants, it's not just the upper, visible portion of a tooth that is replaced, but the underlying root as well. Each new tooth sits on top of a small titanium post that is placed within the jawbone, giving it incredible stability. Implants have quickly become the preferred tooth replacement by dentists and patients alike, and if you're looking for a lifelong solution to your tooth loss, then they're exactly what you want.