Dental Implants – Leesburg, VA
Life-Long Tooth Replacement
In every aspect, dental implants are the closest thing to real teeth when it comes to prosthetics. They look like the real thing, are just as strong, and can last for decades longer compared to other options. And, you can get them right here at All Smiles Leesburg. If you're tired of missing teeth or dealing with a shifting denture, you can put both of these issues behind you for good thanks to Dr. McBryde. To learn more and schedule a consultation to discuss tooth replacement with dental implants in Leesburg, VA, give us a call today.
Why Choose All Smiles Leesburg for Dental Implants?
Highly Skilled
& Respected Dentist
Friendly, Low-Pressure Environment
State-of-the-Art Methods
& Technology
What are Dental Implants?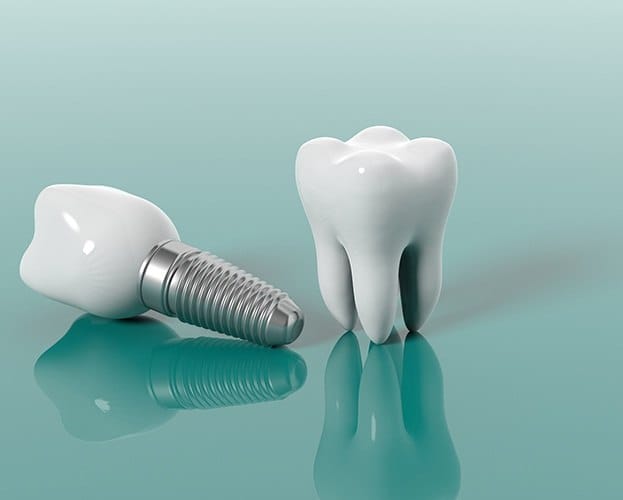 Dental implants are screw-like titanium devices that are placed directly into the bone of the jaw or upper maxillary bone. The implant provides a stable base for a dental crown which is placed directly over top of the implant, creating a seamless restoration that is almost impossible to detect with the naked eye. Once your implant has been placed, it will look and function just like a real tooth.
4-Step Dental
Implant Process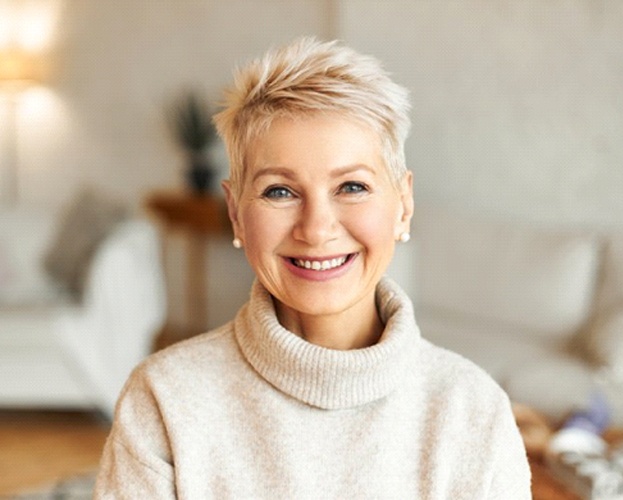 Compared to some other dental treatments, which require only a couple of appointments, the process of getting dental implants is more complex. It can take up to a year from start to finish, but the benefits are well worth the wait and effort! Each patient's journey to a complete smile may be slightly different, but our team will be with you every step of the way to answer questions about how dental implants work in Leesburg and meet your needs. This customized approach ensures that your dental implants can last for decades!
Initial Dental Implant Consultation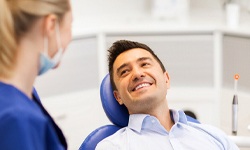 Before we can start with any treatment, we need to meet with you in person for several reasons. First, we have to make sure you are a good candidate for implants with a thorough examination. This consultation appointment also enables us to plan the procedure, so we can be as efficient as possible. If we find that you require preliminary work, such as a bone graft or gum disease therapy, we can take care of it prior to your implant placement procedure to give you the best chances of success.
Dental Implant Surgery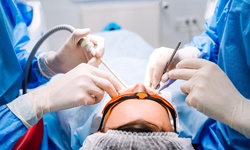 When it comes to the implant treatment, Dr. McBryde can handle basically every step of the process in our office, including the actual placement surgery itself. In this procedure, we start by numbing the mouth so the patient is comfortable and completely relaxed. She then makes a small incision in the gum tissue and inserts the implant post(s) into the jawbone. After that, she closes the gums up and instructs the patient to go home and rest for a day or two.
Dental Implant Osseointegration & Abutment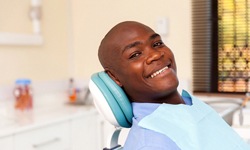 Even after you return to normal activities a few days after placement procedure, you haven't necessarily finished healing. Next, we will need to wait several months, typically between three and six, for the jawbone to envelop the implant post. This new bone growth, in a process called osseointegration, is critical for the implants to be secure. After osseointegration is complete, Dr. McBryde will then put an abutment or connection piece on the post and take impressions of your arches.
Delivery of Dental Implant Restoration(s)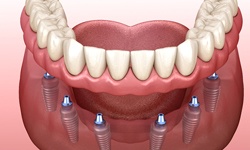 With the abutment in place, we send your impressions to our dental lab, where technicians craft your restoration(s) to fit your unique mouth. Whether you're receiving a crown, bridge, or dentures, your restorations are completely customized and designed to look as natural and stunning as possible. When the final product is ready, you'll come back to our Leesburg office for Dr. McBryde to bond the restoration into place.
Benefits of Dental Implants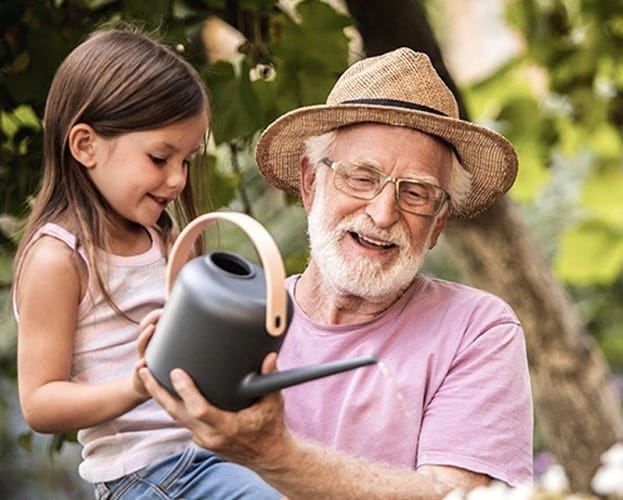 According to the American Dental Association (ADA), more than five million dental implants are placed each year in the United States. This number is a strong testament to the advantages that come with choosing permanent prosthetics to replace missing teeth. At All Smiles Leesburg, Dr. McBryde believes in providing patients with various options when it comes to tooth loss; however, if you're looking for permanence, stability, longevity, and optimal oral health, the benefits of dental implants in Leesburg stand high above the rest.
Day-to-Day Benefits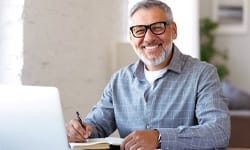 Dental implants are able to restore all of a person's bite strength and chewing power, which means there are no food restrictions, so a nutrient-rich diet is possible.
These permanent prosthetics are more natural-looking than other restorations because of the high-quality materials used by lab technicians. They'll blend in seamlessly with the rest of your smile.
Dental implants in Leesburg offer easy maintenance. You just brush and floss like normal, only you will need to use non-abrasive toothpaste to keep from scratching your customized restorations.
You'll notice clearer speech because of your fully restored smile. Not to mention, dental implants allow you to feel confident when gathering with friends, family, and colleagues. While 34% of denture-wearers claim they are unable to live life to the fullest because of their teeth, you can embrace a better life because of your stable and secure dental implants.
Health Benefits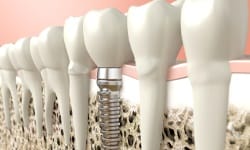 Unlike dental bridges that require your dentist to alter healthy abutment teeth to serve as anchors for the bridge, dental implants anchor to the jawbone, so your remaining teeth are untouched.
By placing dental implants into the jawbone, they offer continuous stimulation, keeping your bone strong and minimizing your risk for facial collapse over time.
Dental drift is often a concern when it comes to missing teeth. Natural teeth will begin to shift out of alignment in an attempt to close the gap. However, with dental implants, your natural teeth will remain in place.
Tooth loss is commonly linked to many overall health problems, including osteoporosis, diabetes, and heart disease. Because the number of teeth you have can determine your lifespan, replacing your missing teeth with dental implants helps to lower your risk of systemic diseases that can reduce how long you can expect to live.
Long-Term Benefits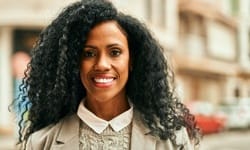 The success rate for implant placement is typically 95%. But this is only possible if you choose an implant dentist in Leesburg who has the knowledge, training, and experience. After 10 years, with proper care, your implant success rate will likely range between 90-95%.
They have a 30+ year lifespan (regular dentures and bridges tend to last 7-10 years). Some cases prove they can last a lifetime!
You'll save money by choosing dental implants. Although the cost is more upfront, you won't be required to buy denture adhesives, special cleaning supplies, or have your teeth replaced every few years.
Who Dental Implants Can Help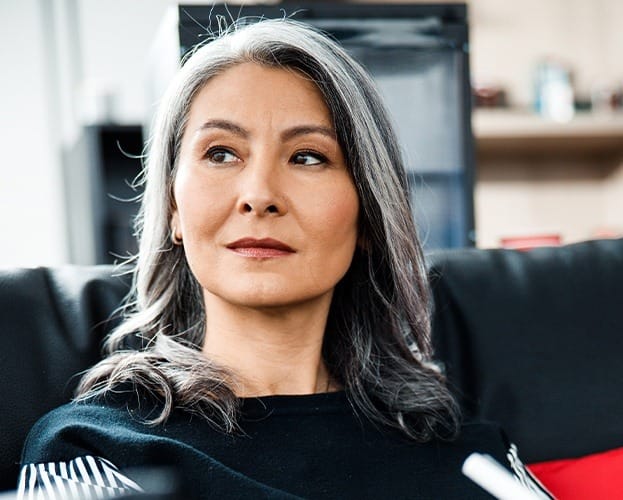 In order to determine if you are a candidate for dental implants, Dr. McBryde will conduct a thorough examination and discuss your medical history with you at length. Initially, an X-ray will be taken of your jawbone to allow for a detailed inspection of its density. In the case that you are not an ideal candidate for dental implants, your other treatment options will be thoroughly discussed with you. Some factors need to be considered for someone that is thinking about dental implant treatment. These include:
Gum disease
Osteoporosis and other bone diseases
Tobacco use
Pre-existing health conditions
Missing Single Tooth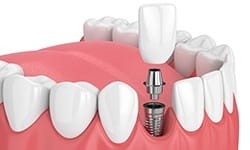 Rather than filing down remaining teeth to make room for a bridge, we can place a single implant topped with a crown, and it will be custom shaded and shaped to perfectly blend with the rest of the smile.
Missing Multiple Teeth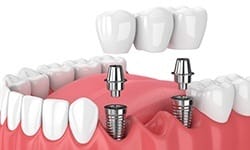 With just two implants, we can replace up to four teeth in a row. Compared to regular bridges, implant bridges are proven to last longer, be more stable, and look more natural.
Missing All of Your Teeth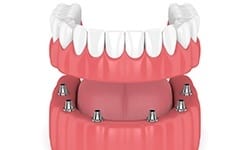 An entire row of teeth can be replaced with just four to six implants, which will serve as the foundation of a full denture. Implant dentures are comfortable, enable a patient to eat whatever they like, and maintain their day-one fit for several years.
Understanding the Cost
of Dental Implants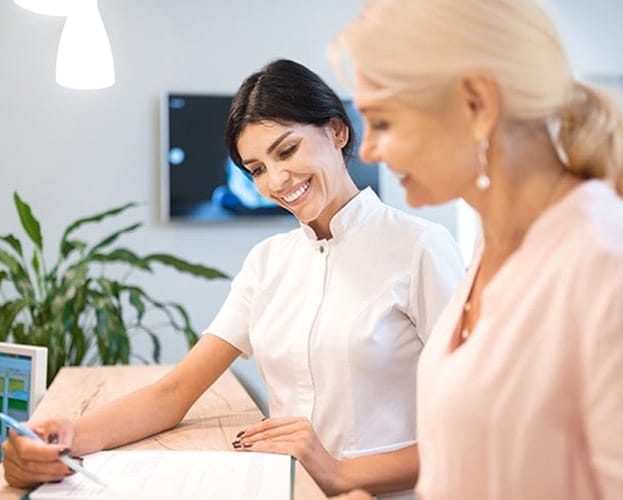 The cost of dental implants in Leesburg may vary depending on your individual case, various factors, and whether you have insurance coverage. Here at All Smiles Leesburg, we require an initial consultation before agreeing to move forward with any type of treatment. This visit allows us to evaluate your smile and determine whether preliminary services are necessary. Once our findings are complete, we can provide a cost estimate for your new smile. To help you navigate the financial side of implant dentistry, we are happy to accept a wide range of dental insurance plans; give us a call today to discuss your coverage options.
Preliminary Treatments & Dental Implant Surgery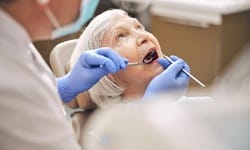 Your dental implant consultation will consist of a full examination using advanced dental technology. The compiled images will give Dr. McBryde the information needed to determine if you require preliminary treatments before receiving dental implants. These procedures may include bone grafting, periodontal therapy, a sinus lift, or tooth extraction. If you require one or more, you can expect these to be added to the total cost of your care.
Also, your dental implant surgery will incur its own fee. Since Dr. McBryde only restores dental implants, she will refer you to a local surgeon who will place your implant posts. As a result, you'll be required to pay a separate fee to the implant dentist in Leesburg.
The Parts of Your Dental Implant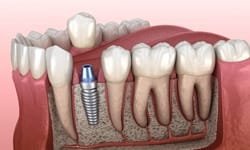 You may not realize it, but the parts of your dental implant make up part of your overall cost estimate. When breaking down the individual components, you can easily see how the more you receive, the higher you can expect to pay:
The number of implant posts you will need – A single dental implant costs less than four or six needed for a full implant denture.
The materials used – Most dental implants in Leesburg are made from titanium or zirconia. Each will have its own cost.
The type of restoration – It is cheaper to create a single dental crown than a full denture, but when you consider the extended cost of a traditional denture, you'll save money by choosing one that is held into place by implants.
The brand – Your dentist will decide the brand and manufacturer they use when choosing dental implants. While there are cheaper options available, you will find the quality you receive is based on how much you pay. Remember, cheaper isn't always better.
How Dental Implants Can Save You Money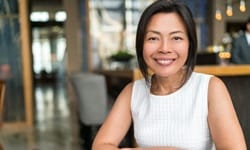 Dental implants are an investment in your time and money. But if you consider how much you can expect to pay with traditional dentures or dental bridges over a series of decades, you'll find it is actually much cheaper to go with permanent prosthetics.
Not only will you avoid having to buy dental adhesives, but you won't require soaking cleaners or regular adjustments and replacements. Dental bridges and dentures must be replaced every 5-7 years (maybe longer).
Also, should you develop a health-related condition that can form as a result of tooth loss (i.e., heart disease, diabetes, osteoporosis, etc.), you will be faced with the costs associated with treating these issues. With dental implants, your risk for these diseases and conditions lowers.
Does My Dental Insurance Cover Dental Implants?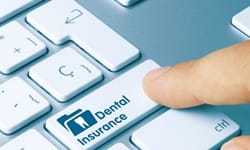 If you're enrolled with one of the dental insurance companies that now offer coverage for dental implants, you're very lucky. Most insurers do not provide coverage for this type of tooth replacement, as they view it as a "want" and not a "need." However, if your insurance company will not cover the cost of your surgical procedure, they may agree to pay for your initial consultation, preliminary treatments, or your customized restoration.
Our team will be happy to assist in helping you maximize your available benefits so that you get the most out of your plan while keeping your out-of-pocket expenses low.
Making Dental Implants Affordable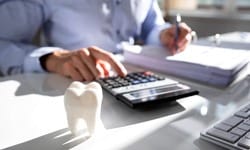 To help keep the cost of dental implants more affordable, we are happy to offer our patients two additional ways to pay for treatment:
If you are uninsured, you can enroll in our All Smiles Leesburg In-House Membership Plan. For one, low annual fee, you can access a host of benefits as well as discounts on available services.
If you need help to pay the remaining balance of your dental implant treatment, you can apply for flexible financing through CareCredit. By opting for a low or zero interest plan, you can keep your payments within your budget.
Dental Implant FAQs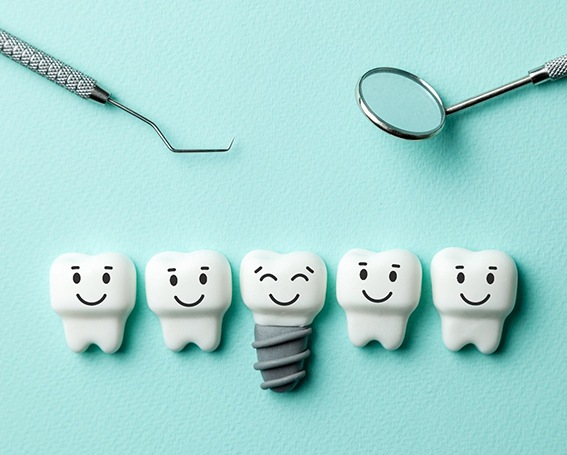 Dental implants are an excellent solution to missing teeth, as they offer benefits that you can't find with other tooth replacement options. However, they are quite an investment, so it pays to be well-informed about the procedure. Here are the answers to some of the most popular questions we receive about dental implants in Leesburg. If you don't see the information that you're looking for below, don't worry. Give us a call and we'd be happy to walk you through the process and get you started with an initial consultation.
How Long Do Dental Implants Last?
The lifespan of dental implants typically will depend on the health and lifestyle choices of the patient. To ensure that your implants last, be sure to brush twice, floss, and rinse with mouthwash on a daily basis. Attend your regular cleanings and checkups, and avoid chewing on anything particularly hard or sticky. With proper maintenance, dental implants can last upwards of 30 years. That's several times longer than traditional dentures or bridges.
Are Dental Implants Safe?
For most patients who have good overall health, dental implants are very successful when placed by a qualified professional. If you have low jawbone density or gum disease, these issues will need to be addressed first to make your surgery safer and more successful. If you have diabetes, cancer, or another medical condition that could make either your surgery or healing process risky, we will discuss them during your initial consultation. Your health is our number one priority!
Am I Too Young to Get Dental Implants?
Most people's jawbones aren't fully developed until young adulthood. If dental implants are placed before the jaw has finished growing, it could interfere with further bone development and potentially result in complications in the futures. That's why most dentists don't place implants in patients who are younger than 18. Some people need to wait until their mid-20s to have a fully developed jawbone. During your consultation, we can discuss whether or not you are ready for dental implants.
How Long Does Dental Implant Surgery Take?
This will depend on how many implants you are receiving at once. Generally, if you are only getting one implant, this will take between one and two hours. This includes the time needed to administer anesthesia and dress you for a sterile surgical atmosphere. If you are getting multiple implants, this process will take longer.