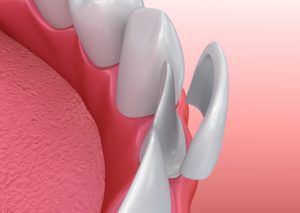 When celebrities began flashing their veneers on the red carpet decades ago, their dazzling smiles looked great from a distance. However, the first modern veneers had a bad reputation for looking and feeling bulky. Thankfully, dental technology has come a long way since the 1960s. Now veneers are undetectable to an untrained eye. Here are 4 advancements that have led to flawless smiles using veneers. 
1. Porcelain
Early veneers were made of various materials, like resins. Today's veneers are made of porcelain, which offers exceptional durability. Although porcelain veneers are thinner than ever, they can last for a decade or more thanks to the natural-looking material. Not only does porcelain look like your enamel, but it also requires less of your tooth structure to be removed during the preparation process.
2. Bonding Process
In 1959, veneers sparked public interest after the development of etching. The front surfaces of the teeth must be etched to ensure a secure bond between the veneer and enamel. This simple change enhanced the lifespan of veneers, making them a cost-effective treatment.
3. Digital Impression
Veneers are carefully crafted to meet a patient's exact needs. Previously, this required you to hold a foul-tasting material in your mouth for several minutes. Although traditional impressions are effective, digital technology has virtually eliminated any room for error. A quick scan of your mouth creates a 3D image. Your cosmetic dentist can enlarge and manipulate the images while getting the exact measurements necessary to get your permanent veneers right the first time.
4. Digital Smile Design
You wouldn't purchase a new vehicle without taking it for a test drive, so it's natural to have hesitations about veneers. Digital smile design technology allows you to "try on" your future smile before committing to anything. Your dentist can show you the adjustments that will be made to have a glimpse of what your new smile will look like.
Are Veneers Right for You?
Veneers aren't for the rich and famous anymore. People from all walks of life are investing in attractive smiles. If you are unhappy with discoloration, chips, or gaps, you might be a candidate for veneers.
Your first step to a beautiful smile involves scheduling a consultation with a qualified cosmetic dentist. They'll examine your mouth and learn more about your goals to determine if veneers are right for you. After creating a personalized treatment plan, you can have the smile of your dreams after just 2 more appointments.
Everyone deserves to have a confident smile. Benefit from the best technology to achieve a smile you'll be proud to share with the world.
About Dr. Giannina McBryde
Dr. McBryde completed a two-year residency in general dentistry after coming to the U.S. She regularly furthers her training to provide the most up-to-date services. She embraces the latest technologies and techniques to create healthy, stunning smiles. If you are interested in improving your teeth, contact our office today to request your consultation for veneers.